Parkersburg First Assembly- 139 Hill Avenue – (304) 485-0121
Nursery and Preschool Ministry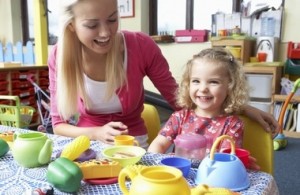 Your little one is a big priority at First Assembly. We strive to maintain an atmosphere of safety, love and learning for your children. Our volunteer staff is trained, caring, and conscientious. In addition to nursery care, we have a sound resistant "quiet room" with darkened glass that offers parents who wish to keep their little one with them a place to attend to their baby's needs and still see and hear the service.
**(Note: Because we want to provide the best and safest atmosphere for all of our children, all volunteers and staff that work with minors at First Assembly are required to pass a background check and complete special "Reducing the Risk" training.)
Toddler Classes
As your child grows, there will always be a place to belong at First Assembly. Classes for toddlers are offered during the Sunday School and Sunday Morning Worship. On Wednesday nights, a Rainbows class is offered for children ages 3 and 4. At any service a toddler class is not offered, your child will be welcome to take part in either the nursery or other child care opportunities the church offers.
(Please note: parents /
guardians
of babies and toddlers must be on premises at all times).
Royal Rangers and Mpact Girls
The Royal Rangers is an activity-based, small group church ministry for boys and young men in grades K-12. Our mission is to evangelize, equip and empower the next generation of Christlike men and lifelong servant leaders. We provide Christlike character formation and servant leadership development for boys and young men in a highly relational and fun environment.
Mpact Girls Clubs is a ministry for winning girls K-12 to Jesus Christ through love and acceptance. Mpact Girls Clubs provides an environment of support and accountability while helping girls to develop their gifts and abilities. In addition, girls build lifelong relationships with mentors who encourage girls to be spiritual leaders.
First Assembly of God Parkersburg – 139 Hill Avenue – (304) 485-012